Anti-Anger Potion
The Anti-Anger Potion is a Potion Invented by Lord Law and is made and sold by Brigade Co.. This Potion Prevent's any Anger from a Sith. It is given away for free to brigadier's.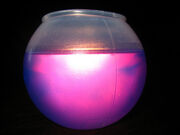 List Of Thing's That It Prevent's
The Following Thing's Are Thing's That The Anti-Anger Potion Prevent's:
Force Pushes
Force Choking
Force Lightning
Black Force Lightning
Black Magic
Hurting Friend's Or Family.
Sideeffect's
some people have noticed extreme itching after drinking the potion.
It has been reporte that some people had fuzz in their ears the very next day.
Notes
The Anti-Anger Potion only work's on Sith
The Anti-Anger Potion is a beta potion that can only be handed out by lord law himself.